ZACK bookmaps
ZACK bookmaps

is a web application to find, locate and loan a book with google maps.
ZACK bookmaps use several web services in parallel to gather all neccessary data in real time (Mashup). It depends on:
Libraries catalogs with a Z39.50 server (my heros!)
Libraries with a web catalog
Library Location Code directories
Geo databases
Google maps
Amazon cover images
related ISBN databases
After a book search, follow the Google symbol

next to a book to get the physically location.
Start ZACK bookmaps
live search
---
Demo Links
Europe
Americas
Screen Shots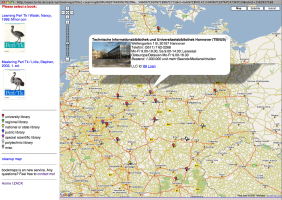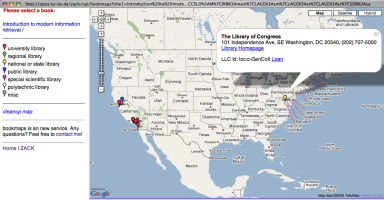 [
more...
]
Frequently Asked Questions (FAQ)
bookmaps is an new service. Here are some technical details.